Out of My Mind
Mar 07
Gonna check for mine as soon as I post this.
And if I can't find it, I know who to call.
I got all excited thinking "Balk headline" too, but it turns out it's just a pun, and not a bad one at that.
A pun. Just not obvious.

But it slowly builds and… it's kind of awesome.

Does make wonder what the neocons really thought they'd accomplish by this. Because no one in their right mind could want how this is playing out.

"We started doing slideshows in the past year and a half, which is something that legitimate sites do all the time now. We just want to keep it as satirical as possible of these ridiculous outlets that call themselves news sources. And that's sort of what we want to do, just keep that going. Crush all competitors in the media landscape. That kind of stuff." —

Talking to 'The Onion's New Editor, Cole Bolton | Splitsider

What kind of time is when satire beats the mainstream media for perspective and honesty?

"

" —
Update — The Dow Jones News Fund has released this statement: "We extend sincere apologies to the persons whose email addresses are listed in the emails. We take the application process seriously, value each applicant and appreciate having the opportunity to review their materials. Something went awry with the automated notices that clearly shouldn't have. We will work diligently to ensure this does not recur."
(Link.)
No need, I suppose, for any punishment to the dope who released the names.
So the defense to the claim that the new jobs fueling the recovery from the 2008 global economic collapse suck because the new jobs always look bad next to the lost jobs. Maybe….
But not this time. The jobs are awful because they're awful.
(Source: The New York Times)
Are the GOP's plans anti-poverty or anti-poor? -
Trick question??
"She once met a young boy from a poor family. And every day at school, he would get a free lunch from a government program. But he told Eloise he didn't want a free lunch. He wanted his own lunch — one in a brown-paper bag just like the other kids'. He wanted one, he said, because he knew a kid with a brown-paper bag had someone who cared for him." —
Paul Ryan: Free Lunches Make Kids Soulless — Daily Intelligencer
The total failure to accept that the poor face real physical hardship, that affluent politicians have no business lecturing people having trouble buying food or having trouble paying for health care about dignity, is just stunning.
(Link.)

"

" —

So this line of tweets started with David Cameron tweeting about calling Obama to discuss the Ukraine….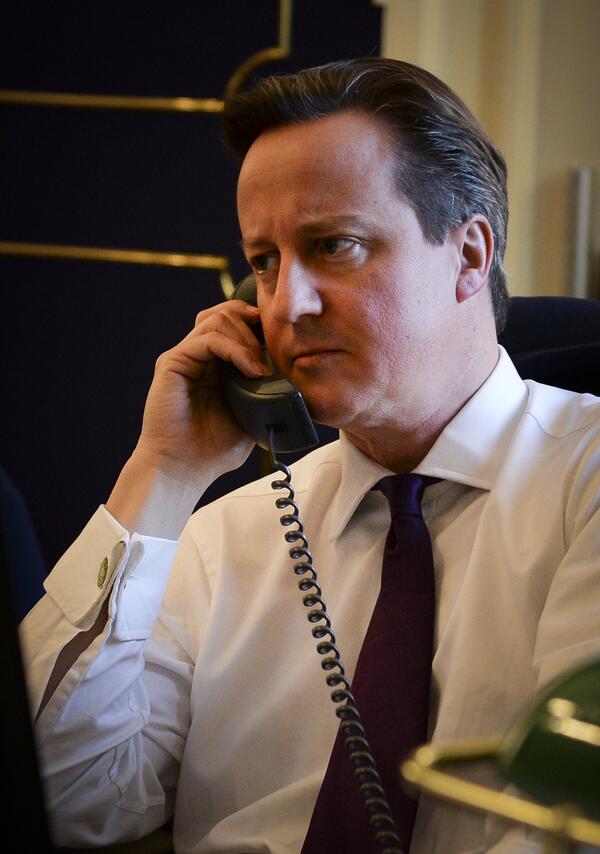 Didn't start as a joke. But stupid brings out the jokers.
"Last September, Senator Mike Lee unveiled a proposal to reform the tax code. Conservative reformers swooned — here, finally, yet again, was the policy seriousness the party had been waiting for. Reihan Salam praised the plan as "genuinely new thinking." Ross Douthat called it a "noteworthy breakthrough" and hailed it in two other columns. Even the more skeptical Josh Barro, in a post headlined "FINALLY, A Republican tax plan that doesn't suck," concluded, "Unusually for Republican tax plans, his new plan cuts taxes for the middle class and finances that with a tax increase on the wealthy."
Well, no. The Tax Policy Center has run the numbers, and it turns out Lee's plan cuts taxes for the middle class and pays for it by cutting taxes even more for the rich. It's basically just a big tax cut for everybody." —
Mike Lee's Tax-Reform Plan Does, in Fact, Suck — Daily Intelligencer
Surprising.
"A proposal by Kirsten Gillibrand to overhaul the way the military handles sexual assault cases won the support of 55 senators but failed to overcome a filibuster on the Senate floor on Thursday afternoon." —
Gillibrand fails to overcome filibuster | Capital New York
Minority rules in this democracy of ours.
Or I should elaborate: They rule if they're the mainstream media-powered party of the ruling class.
P.S.: No matter what they say, the minority party hates women. That's what their every relevant action says.
Mar 06
Vintage Comic - Action Comics #425 (CGC)

People exposing Superman or exposing themselves to Superman was a recurrent cover art theme.
Scary!
The cover and that the book's slabbed.
[video]
Still. This shot has rarely been best. Maybe never.
(Source: maudit, via mudwerks)
[video]
[video]