Out of My Mind
Aug 20
Read the piece here.
Watch a Gross Subway Rat Chase a Blaze Reporter -
Can anyone tell me why white folk think a dirty mouse is a rat?
CNN anchor on Ferguson: 'Why not, perhaps, use water cannons?' -
Since everything old is new again (except for de jury segregation), why not use water cannons just like the racist pigs in the South did?
That'll let everyone know what kind of nation we are.
And the mainstream princess asks while sitting next to a Black man.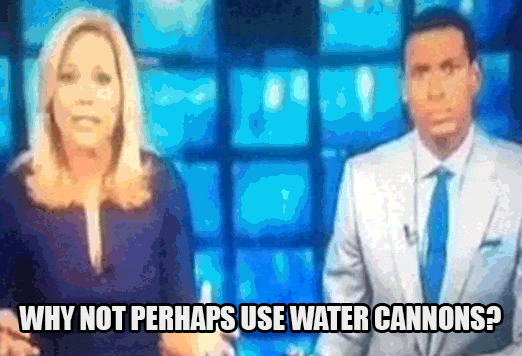 Bet everyone watching this felt more informed and smarter for watching it.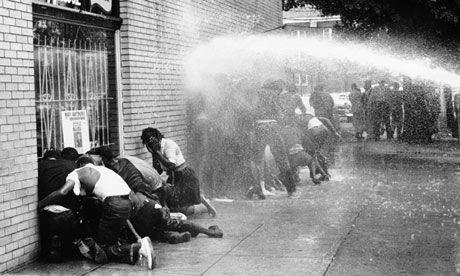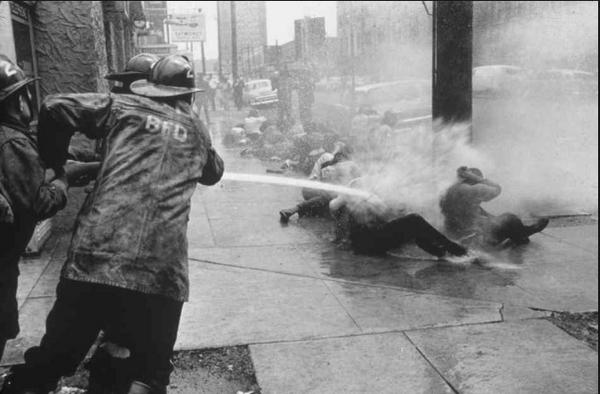 "Nearly six months after Steve Ballmer handed over the reins at Microsoft, the former CEO on Tuesday announced he is also resigning from the company's board, citing outside responsibilities like a new role as owner of the Los Angeles Clippers." —
Steve Ballmer leaves Microsoft board to concentrate on other responsibilities
Bizarre.
Board members all "outside responsibilities". Likewise sports team owners.
Guess once an endemic liar always a liar.
This is not the reason he left.
Maybe it's more like he clearly has nothing to, huh…, bring to the table.
Instant update:
It gets weirder:
Ballmer pointed out that he holds more shares of Microsoft than any one individual, excluding funds, and expects to stay in that position for the "foreseeable future." According to The New York Times, Ballmer's has a 3.99 percent stake in Microsoft with shares currently worth over $15 billion, more than company cofounder Bill Gates. Using the considerable sway, he intends to spur on Microsoft management and offer ideas and input going forward.
So the difference in time expended between being an activist and a board member is insignificant.
Unless it's easier to fight Nadella from the outside.
Aug 19
"[O]utside of getting tough with the browns so people don't boo him like they did last time, Rick Perry is going to base his entire campaign for president on the economic performance of Texas while he was governor. What the Morning News describes is what Rick Perry is going to tell us he wants for the whole country — an unregulated dystopia in which a certain number of unavoidable deaths on the job are the price we pay for the freedom enjoyed by our job creators to risk all our lives. That is the basis of Rick Perry's upcoming campaign. It is built on a foundation of anonymous bones." —
The Joke That Is Rick Perry Is Not Funny - Esquire
None of them jokes.
Everyone of them is a danger to the nation.
You've been warned.

This is how it starts: With saving lives.

(Source: The Onion)

The Adjunct Crisis: A Reading List

It's Too Early to Write Off the Third Smartphone Ecosystem -

Now maybe labeling stuff satire is a good thing.

I'd like to think this idiocy is satire but I need some sort of certification confirming that it is.

"If you have turned on the "location service" of your smartphone, Google is tracking everywhere you go and creates a map of the data – and you can go look at the map of your own wandering – it's not private y'know." —

Some Assembly Required: SAR #14228

True, only if you're running Android and/or Google "services" (apps). Which I actually try to avoid as much as possible. With, might I add, no harm to me in the process. No downside.

"The NSW government is planning to give businesses two votes each in local elections. But the government in Queensland is requiring all business that use any renewable-sourced electricity to pay an extra $500 recurring fee to be hooked up to the electric grid. More of their attempt to kill solar power. And the environment." —

Some Assembly Required: SAR #14228

WTF??

"The vicious gang of terrorists villains known as IS has been funded by Kuwait, Qatar, and of course, Saudi Arabia – the same guys that financed the 9-11 attack. Ain't the politics of oil a wonderful thing to behold?" —

Some Assembly Required: SAR #14228

Still the Republicans' true BFFs.

In Surprise Finale at Metropolitan Opera's Labor Talks, Both Sides Agree to Cuts -

I thought compromise was extinct.

Actually, this is more a surrender than a compromise.

Don Pardo, the Voice of 'Saturday Night Live,' Dies at 96 -

End of an era.

Don't mean SNL. Or even the first run of Jeopardy. Even before. Before TV even. That's when it began. Old-time announcers.

"In other words, people who whine that the poor have cell phones instead of their proper role of starving or that those "choosing" to have something like a cell phone rather than health insurance are the undeserving poor are idiots. Because these often aren't actually choices and even if they are, what the hell is it to you that people make the choices that improve their lives in ways they see fit with their limited resources?" —

Faux Outrage over the Poor Owning Technology - Lawyers, Guns & Money : Lawyers, Guns & Money

Raises the question why the opinion of a psychopath matters to anyone.

Idea! New sit-com: Psychopathic Dad. Family led by billionaire CEO and all the craziness that ensues as he raises a second generation of psychos. (The mom is actually his trophy wife, who does nothing responsible. Being a trophy is 24/7 if one doesn't want to be replaced.) Like Married… with Children wildly hyped up, like on crack.

"

"Fully 65% of African Americans say the police have gone too far in responding to the shooting's aftermath. Whites are divided: 33% say the police have gone too far, 32% say the police response has been about right, while 35% offer no response.

Whites also are nearly three times as likely as blacks to express at least a fair amount of confidence in the investigations into the shooting. About half of whites (52%) say they have a great deal or fair amount of confidence in the investigations, compared with just 18% of blacks."

" —

What's wrong with white people? - Lawyers, Guns & Money : Lawyers, Guns & Money

De jure segregation is dead. And African-Americans are second class citizens. Maybe targets is a better term.

So, you know, full equality.

Free at last my ass.